Domestic garden design
Gearing Landscape Services is a family owned business established in 1961 and provides a wide range of landscape maintenance, construction and exterior works services. Certified to ISO 9001 and 14001 and accredited under a number of contractor safety schemes, such as Which? Trusted Trader, Safe Contractor and Constructionline, we provide an outstanding high-quality service.
If you are looking for independent, high-quality domestic garden design service please call us on 01438 369 321.
Chris Gearing
I have a 30 year history of providing landscape garden services to the public and private sector creating and maintaining large and small gardens. Along side family members I have worked to successfully build up the family run business started 50 years ago in Hertfordshire by my father.
Until recently I worked for 20 years as the head gardener to a large country estate consisting of 25 acres of formal gardens and park while doing this I obtained a good knowledge of plants and planting. I also studied garden design at Shuttleworth College in Bedfordshire during this time.
I am a trained tree climber and hold a pesticide spraying licence as well as other horticultural and agricultural qualifications.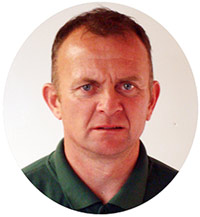 Garden design service
Initial consultation
After contacting us, a date and time will be arranged for the initial consultation. Prior to the meeting a questionnaire will be sent out to you. It would be very helpful if all members of the household are consulted and discussions carried out to help us get the most from the initial consultation .At the meeting we will discuss your ideas and wishes, giving any guidance and ideas of our own and try to establish a design brief. After the meeting a summary of the consultation, a design brief and a breakdown of costs and fees will be sent to you.
Site survey
If you wish to continue a site survey will have to be carried out before any designs are considered .To establish site features, boundaries, levels, soil types, services, any other relevant information and photographs that will be required to create the design.
Scale plan
A scale plan will then be drawn up including hardscape features, soft landscaping, trees, planting styles, levels and the overall shapes and features of the design.
Planting plan
Although planting areas and styles will be on the scale drawing, a detailed planting plan showing tree and plant varieties and approximate positioning may be required.
Technical construction drawings and specifications
Drawings and specifications to enable a contractor to price and construct your garden.
Tender documents
A full set of documents to put the job of construction out to competitive tender.
Build
We can also carry out all the building and planting work using our own teams and sub-contractors.
After care and maintenance
We have a competent and dedicated maintenance team to sculpt your new garden to its full potential and keep it looking good for years to come.